First robotics competition business plan
A public high school, Tech High attracts students from all over Sonoma County. With a capacity of students in 9th through 12th grades, the curriculum is designed to be project-based as well as cross-curricular which fosters teamwork, requires creation of products and makes a connection between school, work and the world at large. Working together as a team with mentors students gain practical knowledge in writing and implementing a business plan, manufacturing, programming, digital media, fundraising, web design, public speaking and many other life skills as they compete with over 40, other high school students at 45 regional events worldwide.
/ Business Plan / FRC 16 / Bomb Squad / 3 Relationships and Information Regarding Current Sponsors After helping these FIRST Robotics Competition teams finish their FIRST Stronghold robots, we competed in a full-scale competition and earned the Inspiration Award. FIRST® Robotics Competition for students in Grades Students work with professionals across a wide range of disciplines including hardware and software engineering, strategy, design, and business to build a robot and compete in a game following rules. There are two programs for high school students: FIRST® Tech Challenge (FTC®) and FIRST® Robotics Competition (FRC®). FTC provides a reusable kit of parts for small teams to build affordable robots.
The positions change somewhat from year-to-year, however, we always have a President and Vice-President. Leadership styles also vary from year-to-year, impacted by college searches, after school jobs, etc.
Some Presidents lead by example, while others share leadership and distribute the work load and productivity. All Officers are expected to share leadership responsibilities and lead the other team members by example and direct supervision.
Typically, our Team President serves only one term, while other positions, e. A President is expected to have previously served in other team leadership positions. Responsibilities in the Fall include: Kickoff, Coordinating tasks with mentors robot, practice, cart, pit Running Build meetings, organizing sub-groups Communicating progess, meeting times, etc.
Responsible for member fundraising efforts, team meetings, dedicated to being at all meetings possible, present in Pits to field Judges and other visitor questions, team-to-team socializing, etc.
Vice-President -- shares and carries out presidental duties. Usually expected to become President the next year therefore must not be a seniorhowever, "President" is an elected position and you know how elections can be.
Also, failure to perform will impact advisor approval. Responsible for pestering the Advisors, Mentors, Booster Club to be sure everyone is equally informed. Methods of communication include the team website news, schedule, special events list, email, school PA announcements, passing the word in the hall, Club Activity bulletin board in the Commons, etc.
Treasurer -- handles the funds from school fundraisers, works with the Booster Club treasurer Scout Master s -- work with the Scouting mentor s to develop scouting system, evaluate game discriminators, investigate event teams.
Watch hours of game videos, spend days on the Internet watching posted robot videos, photos, game debates on ChiefDelphi, etc. Organizes our competition pit, battery cycling, etc.
Usually a multi-year position. Head of Computing -- robot programming, website, extras. At least one must be a faculty member, however, the faculty member does not have to be the Lead Advisor.
Our team generally has two full-time and one part-time advisors. Additional faculty members may be enlisted as chaparones on trips to competitions, or other special events. The Advisors have overall responsibility for the team--think benevolent dictators.
Team continuity and long-term grown and improvement falls on their shoulders. They are responsible for handling the school finances, team purchases, administrative reports, arranging for chaparones, and have the final say in critical team decisions.documentation of business plan, Outreach logs and effectiveness metrics, award submissions, and our Chairman's Award presentation.
Through Build and Competition season, all student sub-team leaders meet twice weekly and. documentation of business plan, Outreach logs and effectiveness metrics, award submissions, and our Chairman's Award presentation.
Through Build and Competition season, all student sub-team leaders meet twice weekly and. Team Business Plan Tech Challenge Team and FIRST Robotics Competition Team We also connected FIRST Long Island with PSEG and helped fund the construction of field elements for FIRST Robotics kickoff.
About FIRST All about our main competition and program; This team displays entrepreneurial enthusiasm and the vital business skills for a self-sustaining program. Our team first developed a comprehensive business plan during the FIRST season.
FIRST® Robotics competition in whole and in part • Media Publications such as the Chicago Sun Times and the Flint Journal, and online sources such as Business Week and monstermanfilm.com have covered FIRST Robotics Teams and events.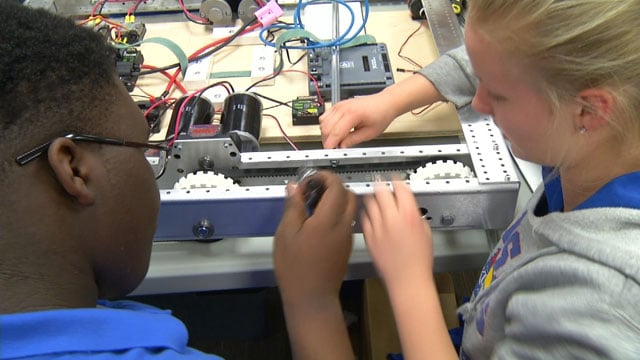 Junior FIRST LEGO League for grades K – 3 FIRST LEGO League for grades 4 – 8 FIRST Robotics Competition for high school This Business Plan demonstrates our passion, dedication and appreciation.